Lucy Emma Wright

Found Victoria through a Google search looking for a mobile tan for a friend and I. Victoria was absolutely brilliant – bought everything we needed and was set up in minutes – we even got some samples of exfoliator and moisturiser! She was so pleasant, friendly and professional – and when I wasn't sure which colour tan to go for, advised me accordingly – and was so right! We both felt great with our tans and had a great holiday! Will be using Victoria again!
Amy Willerton (Miss Universe GB 2013)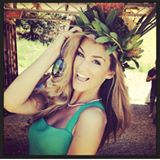 Victoria is a lovely and charming girl who makes the whole experience so easy and care free! My gorgeous summer nails are perfect – Thank you!
Sarah Priestman

Vix is simply the best therapist out there – she's lovely, puts you very much at ease, is totally professional (which you don't necessarily expect if not in a salon), has all the latest gadgets and beautiful products and most importantly, is excellent at what she does. I was recently lucky enough to have a 2hr facial and massage treatment – it was blissful. I slept better than I had in months afterwards, which as a new mum, was much appreciated!
5 stars 
Marsha El-Hage
I found Victoria through Google and she really was too good to be true! It is always a bit indulgent having my beauty bits done in the privacy of my own home but I love it! Victoria is fantastic at hands and feet and I always make sure I get her regularly to keep them looking great! Can't recommend her enough…she is really a super find! Thank you!! xx
Lin Haines

I have just had a wonderful full facial, with Elemis products which included head, neck and hand massages. My skin feels and looks amazing. What a tonic! I can't recommend highly enough this lovely young lady. Thank you Victoria, see you after your holiday.
Melanie Minetti

Thanks Victoria for yet another fantastic pamper party, my friends all had a wonderful day and thought you were great! Mel
Kirsty Jacobs

I was really nervous about getting a spray tan for the first time but Victoria put me at ease straight away. Not only did she send me some really helpful information to help me prepare properly for the tan – e.g. when to exfoliate etc, but she also gave me a few products to help keep it looking tip top. The tan turned out so perfectly, that I booked another one for a couple of weeks later! Victoria is so lovely that I will definitely be using her again.
Camilla McInnes

I have been having treatments with Victoria since September 2011. I find the service very professional and friendly. It is great having treatments from the comfort of your own home and I have found it important to have someone you enjoy seeing and trust. The range of treatments is fantastic and she is continually getting new colours for nails and improving the product range. I am always happy with the results and look forward to my monthly treat!
Carol Leonard

I would just like to say that the beauty services Victoria offers are second to none. I have had massage, facials, pedicures and waxing all of which have been absolutely brilliant. She offers great advice, has a lovely gentle touch, very considerate and makes you feel like a queen afterwards. I cannot recommend Victoria highly enough – when you want to feel special and spoil yourself give her a try, you will not regret it.
Victoria Hayes

Victoria was introduced to me by a friend and she has been fantastic. Great massage and facial and a real treat to have these treatments in the relaxing environment of your home. Definitely worth a try!!
Bobby

Punctual professional therapist. Takes pride in presentation and offers a wide range of treatments customised to client needs. You are not made to feel as though you are on a conveyor belt production line and are offered the full time if not more, until the treatment is complete. No sense of rushing and all in the comfort of your own home. Highly recommend her services.
Lisa Marron

Thanks for the lovely Facial Vick's my skin looks and feels amazing…. Looking forward to my next one already.
Other Feedback From Satisfaction Surveys
The treatments were amazing, and it's lovely to be able to have them in a home environment and tailored to my needs. Victoria is lovely – friendly, caring and professional.
Victoria was very professional, she used well known products and was also very careful that the treatment (a spray tan) was done correctly so the end result was exactly what I wanted.
Victoria was efficient, lovely, and made me feel at ease immediately.
Friendly and approachable service! Couldn't ask for a better beauty therapist!
You have an extremely professional demeanour and are a fantastic beauty therapist. As a busy mum I don't have the time to go to a beauty salon, yet I want great treatments at home. I love the way you turn up looking the part with your uniform and equipment / products so neatly packed. It's a real treat having you come to my house! I have already recommended you to several friends. So happy I found you!
I have had many massages before and I have never been completely satisfied, until I met Victoria. I won't go anywhere else now
Brilliant service from a lovely and polite therapist! Will definitly recommend you! It was the perfect way to start a wedding weekend for my friend! Thank you so much:)
Victoria is lovely and strikes just the right balance between professional and friendly. I really enjoyed my pedicure it was a lovely experience from start to finish. It was relaxing and tailored to my requirements. I had an injured leg so Victoria adjusted the treatment to ensure I felt comfortable. Two weeks on and my toes still look gorgeous!
I thought you did a great job and your caring nature is a great asset particularly for home visits. Customers will feel safe that you will do the best for them as individuals
The quality of the treatments were great, and nice manner that everything was done in, very nice experience, quality of a salon but with a more personal feel!
A very professional service provided with personality!
Amazing facials – practically a massage and facial in one. Exceptional value for money ; – )
Excellent service, highly recommend!
Victoria is always professional, punctual and i love getting treatments from her! She is flexible and personable and i always recommend her to my friends
Was very pleased with my treatment. Victoria is extremely professional, and I think her service beats having a treatment at a salon. It's salon quality, but within the comfort of your own home